Sport
Football
Manchester City's David Silva a doubt for Sunday's derby with injury
Pep Guardiola has revealed the 31-year-old, who signed a contract extension last week, is in danger of missing the trip to Old Trafford
Click to follow
The Independent Sport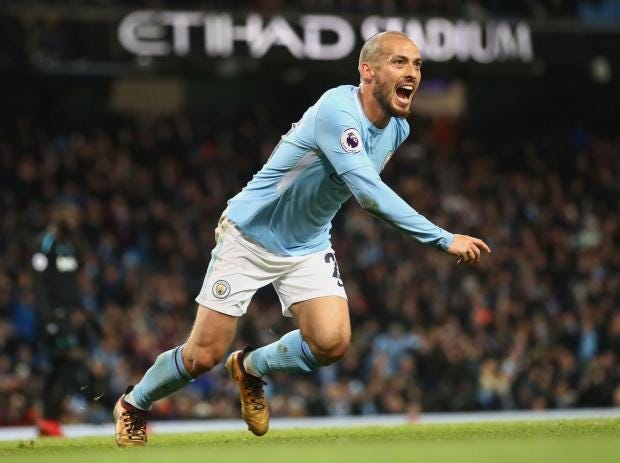 David Silva is doubtful for Manchester City's derby clash with Manchester United on Sunday after suffering a knock last weekend.
The Spain playmaker felt discomfort in the closing stages of last Sunday's victory over West Ham, a game in which Silva scored the Premier League leaders' late winner.
City announced on Monday that Silva would not be travelling to Kharkiv for City's Champions League game against Shakhtar Donetsk on Wednesday because he was "not fully fit".
The story of the start of the 2017/18 Premier League season
The story of the start of the 2017/18 Premier League season
1/8 The story of the start of the 2017/18 Premier League season

How did the Premier League's big seven clubs begin the new campaign?

Getty

2/8 Everton (16th after 7 matches)

Everton made a slow start to the season, despite spending over £133m on new signings. They drew with City before heavy defeats to Chelsea, Spurs and United.

Getty Images

3/8 Liverpool (7th)

Liverpool's form remains as erratic as ever. A 4-0 win over Arsenal seemed to indicate that they had turned a corner, before a chastising 5-0 loss away to City.

AFP/Getty Images

4/8 Arsenal (5th)

The alarm bells were ringing after successive defeats to Stoke and then Liverpool. But Arsene Wenger's side bounced back and held Chelsea to a draw at Stamford Bridge.

Getty Images

5/8 Chelsea (4th)

The defending champions have found things more difficult this season and lost two of their opening seven fixtures – to Burnley and Manchester City.

AFP/Getty Images

6/8 Tottenham (3rd)

Oh, if only Tottenham weren't playing at Wembley. Their away form has been superb with four wins out of four but they remain without a win at Wembley.

Tottenham Hotspur FC via Getty I

7/8 Manchester United (2nd)

United have finally found a way to turn draws into wins. A 4-0 victory over Everton is the highlight so far; a 2-2 draw with Stoke the only blot on their copybook.

Getty Images

8/8 Manchester City (1st)

The Premier League leaders on goal difference. City have been in scintillating form, winning six of their opening seven matches and scoring no fewer than 22 goals.

AFP/Getty Images
It was assumed this was a precautionary measure but manager Pep Guardiola has now revealed the 31-year-old, who signed a contract extension last week, is also in danger of missing the trip to Old Trafford.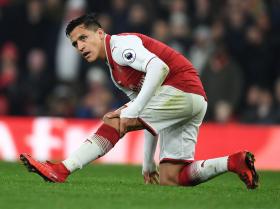 City to return for Arsenal's Sanchez in January
Guardiola, speaking at his pre-match press conference in Ukraine, said: "David had a little bit of problems in the last minutes. We made a test after the game and I don't know if he is able to play on Sunday, so that's why he stayed there, to recover in Manchester."
Guardiola was asked for further clarification on the nature of the injury but was unwilling to elaborate.
He said: "It's something, something uncomfortable he felt in the last minutes, before the goal he felt something."
After being asked again, Guardiola laughed and said: "Hopefully he can be fit for Sunday but it was too risky to play him (Wednesday)."
More about:
David Silva
Manchester City
Pep Guardiola
Reuse content
Comments
bet365 sports betting promotions. More info ...