Sport
Football
Manchester City manager Pep Guardiola hails his side's mentality after comfortable win over Newcastle
Guardiola was delighted with his side's response to their first defeat of the campaign
Mark Critchley Northern Football Correspondent
@mjcritchley
Click to follow
The Independent Sport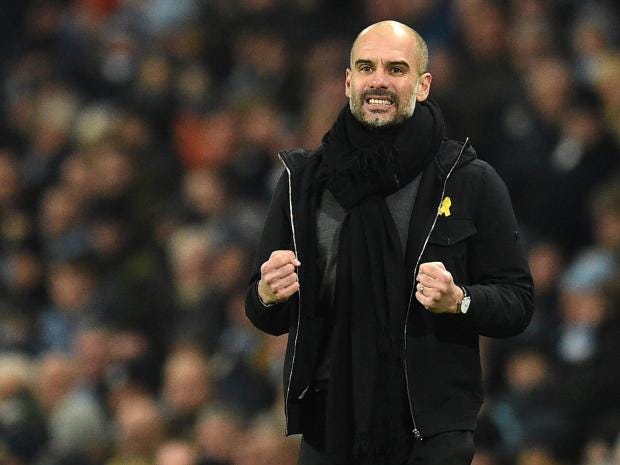 Pep Guardiola was delighted with the way his Manchester City players responded to their first defeat of the Premier League, having feared they could slip up again.
Guardiola's side ran out 3-1 winners over struggling Newcastle United at the Etihad on Saturday, ultimately recording a comfortable victory.
The win came less than a week after Jürgen Klopp's Liverpool tarnished City's unbeaten record with a 4-3 victory last Sunday.
Guardiola's players responded in the best way possible, however, just as they did after their long winning run was ended against Crystal Palace on New Year's Eve.
Aguero hits perfect hat-trick as City return to winning ways
City beat Watford two days later after that 0-0 draw and on Saturday, they once again bounced back from a rare slip-up
"I don't know what happened. We dropped two points against Crystal Palace and the reaction against Watford was amazing, today the same," Guardiola said.
"When you lose, because the opponents are good as well, we stand up, shake hands, congratulate Jurgen Klopp and his team and move forward.
"I said after the game we need these kind of results to realise what we have done."
City dominated from the first whistle to the last against Newcastle, enjoying over 80 per cent of possession against a Rafael Benitez side that defended deep in the hope of edging a result.
Read more
Manchester City beat Newcastle United: As it happened
Guardiola reveals the real reason City didn't sign Sanchez
Klopp doubts City pulled out of Sanchez deal due to money
Guardiola admitted to a "little bit of doubt" as to how his side would react after the Liverpool defeat, but could not fault their mentality.
"The way we ran, the way we fight, the way we play against a team that defended 10-11 players in the box, it was so complicated, but that's why it's so good," Guardiola said.
"The few times they attacked we were able to make a good combination. In general so satisfied."
Guardiola added: "Always after the defeat against Liverpool, you have a little bit of doubts how you would react, what happened if you went two games in a row not winning. That's why it was so important.
"We need mathematically 10 victories to be champions. We are going to try to win game by game."
More about:
Premier League
Manchester City
Newcastle United
Pep Guardiola
Reuse content
Comments
bet365 sports betting promotions. More info ...