Sport
Football
Crystal Palace and Brighton left unconvinced by VAR after first outing in FA Cup clash
After the game many involved admitted the experience had left more questions than answers
Click to follow
The Independent Sport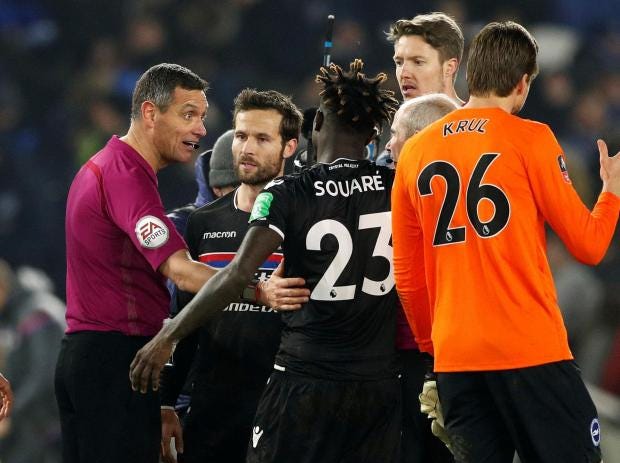 The Video Assistant Referee got its first test of competitive English football on Monday night during Brighton's 2-1 win over Crystal Palace, but it has left some players still unconvinced.
Referee Andre Marriner didn't need to call on the VAR until the final minutes when former Eagles striker Glenn Murray stole in at the far post to bundle over the winner, and his first goal against his former club since leaving two-and-a-half years ago.
Some Palace players protested to the match official but after a short wait and a message in his ear from the man with the cameras at the side of the pitch he confirmed the goal. After the game James McArthur admitted the experience had left more questions than answers.
How will VAR work in the Premier League?
How will VAR work in the Premier League?
1/5

Getty

2/5

Getty

3/5

Getty

4/5

Getty

5/5

Getty
"It was probably 15 seconds we were waiting," he said. "But they might have got it right. They take a bit of time to review it. When it is so close like that you need to take your time to review it rather than jump to a conclusion."
Even then, though, some of McArthur's team-mates still aren't convinced Murray didn't use his arm to prod it home, even after seeing multiple replays.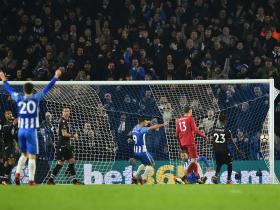 Murray strikes late to see Brighton through to FA Cup fourth round
"It is one of those on the pitch you think it is a definite handball. But when you look at it is it not as clearcut as that. It hit Glenn's knee and then we do not know if there is contact after that.
"It is hard for them [the officials]," he added. "We got half the changing room saying it is a goal and half the changing room saying it is not. Even that is not clear cut. It is one those that will probably not happen like that again, but on the first night it is so hard to call. But it is done now.
"The referee does not think it touches [Murray's] hand and his you look at it closely, which they have got so many cameras watching it, they have can see it a lot more than you can."
Palace were not at their best during Monday's final third round clash and aside from a frantic spell in the second half where they peppered Tim Krul's goal with shots and equalised Dale Stephens' first-half effort through a superb Bakary Sako drive from distance, it was an off-day for Roy Hodgson's Eagles.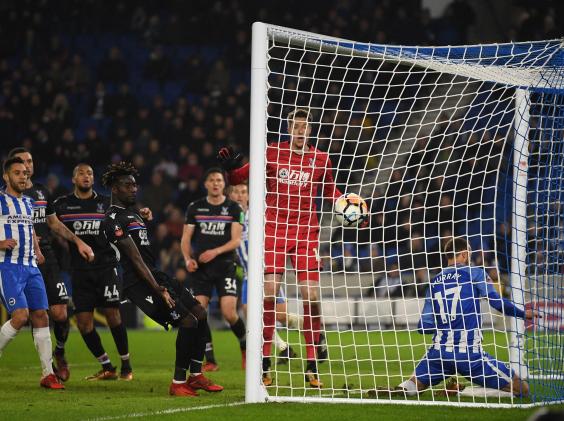 Murray scored the winner at the Amex (Getty)
McArthur was still left cagey about the use of VAR in the future, but admitted with or without it, his side were simply not goo enough on the day.
He added: "It is a hard one to be honest. There is so much money for clubs involved that you want mistakes out of the game. But at the same time is part of life in football that people make mistakes. We make mistakes and referees do. You have got opinions both ways.
"We should have done better as a team, rather than just one incident. One incident has cost us but that is not down to the referee."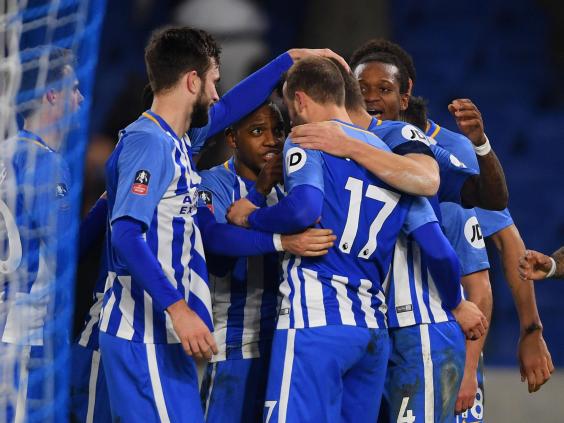 Murray says the goal was rightly awarded (Getty)
Goalscorer Murray, meanwhile, was convinced it didn't hit his arm. "I knew it didn't touch my arm," he said. "I didn't know what it touched but it didn't touch my arm so I knew there was no question on that but obviously the assistant VAR was in the referee's ear telling him that it was all legit. I just needed to get something on it as I felt it was going to just sneak wide and luckily I did."
Officials at the Premier League will be pleased that the first official outing of VAR passed off without controversy and even with the system proving its effect, but for Murray it still needs to be drip fed into games and reviewed.
He added: "I think there's pros and cons. Especially with the brand of the Premier League, with its physicality and speed; that's what the world likes to see. If the VAR is going to slow it down then it's not a good thing but if it can be introduced gradually, smoothly and fluidly, then it is. We've had goal-line technology that kicked off with no problem so hopefully the VAR will be like that."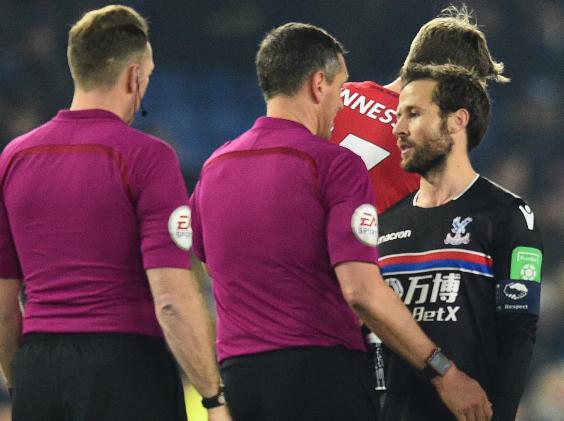 Crystal Palace's players weren't happy with Marriner's decision (AFP)
Murray's celebration against his former club, who he left Brighton to join on a free in 2011, was a muted one as he promised, exactly the same as when he scored for Palace at the same venue shortly after joining them. "For me it was just a goal against a team," he said. "I don't take any enjoyment scoring against my ex-employers as I didn't when I scored against Brighton [for Palace] and it's just to be in the next round of the cup.
"I've got no reason to rub salt into the wounds. I had a great time up there and both have been very successful periods for me. t's a good win, it keeps our little bit of momentum going that we've got in the league and winning the next tie up at Middlesbrough [in the FA Cup fourth round] will help."
More about:
Brighton and Hove Albion
Crystal Palace
FA Cup
VAR
Reuse content
Comments
bet365 sports betting promotions. More info ...